Behind the house is a pool of 4m wide and 8m long with roman steps surrounded by a terrace. The depth ranges from 1m to 2m25. The mini slide ends in the deep end.
The water is salt based and is heated from 1 April to late October (21 ° to 25 °). The pool is cleaned weekly.
Because of the French legislation the pool is equipped with a retractable cover and the terrace is fenced.
There's a table with 6 chairs and 4 loungers with cushions available.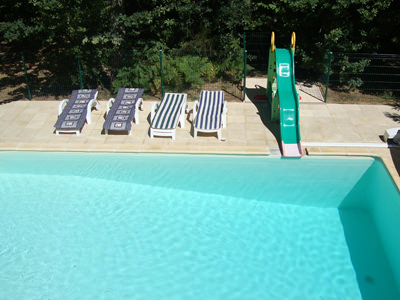 Since October 2006 we have a subscription to TV Vlaanderen which contains all Belgian channels and the Dutch channel BVN (Best of Flanders and the Netherlands).
Via France Telecom you can receive French channels if you want to watch the French weather forecast.
Through the sattelite dish we now have internet reception. There is an old laptop that you can use to receive news from the homeland.